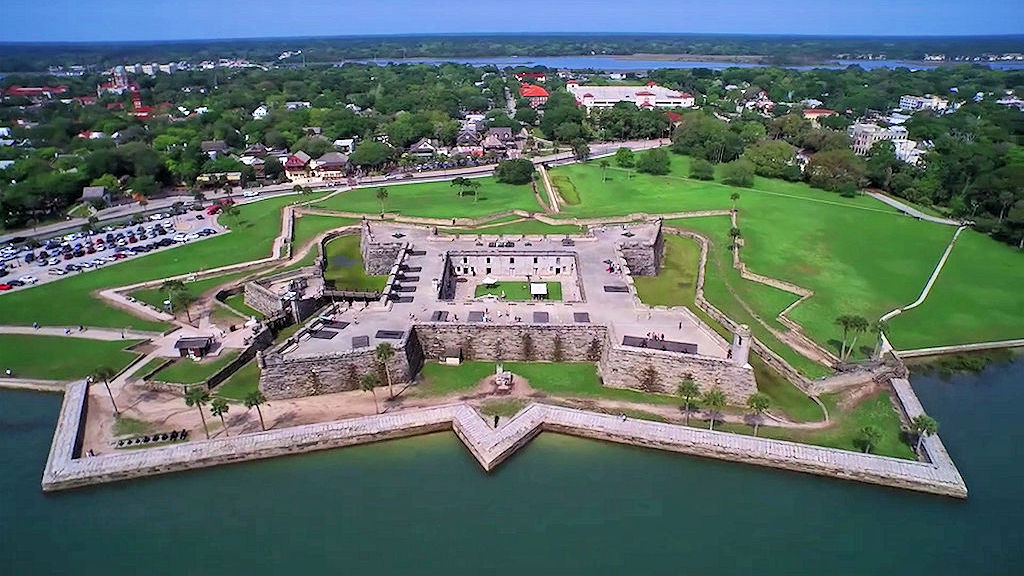 Explore the Distinctive Architecture of the Castillo de San Marcos
Built in the 17th century, the Castillo de San Marcos covers over 20 sprawling acres of land and is filled with a rich 450 year history that has withstood the test of time. Once you step into this National Monument, you'll find yourself transported back to the Colonial era, surrounded by an imposing fortress built of the unique and beautiful coquina limestone. Over 400,000 blocks of coquina stone were used to construct the Castillo—all cut and set by hand. Initially completed in 1695, the Castillo touted walls that were 22 feet tall. The porous coquina stone absorbed cannon fire by compressing instead of shattering making the fortress almost indestructible.
After the Castillo de san Marcos' first siege by the British in 1702, construction began to strengthen the the fortress. Major enhancements occurred between 1738 and 1756—a height of warfare between Spain and England in the New World. Interior rooms were enlarged and ceilings were arched to "bomb proof" the rooms and provide overhead support for the cannons. These enhancements also caused the walls of the Castillo de san Marcos to be heightened to 35 feet making the fortress even more commanding.
The vaulted ceilings enabled heavy garrison guns to be placed all around the perimeter of the gun deck. The sturdy interior rooms of the fortress—also known as casemates—were stocked with military supplies such as gunpowder, hardware, materials for ship repair and could store up to 20,000 cannon balls. Eventually the Castillo was able to defend itself and all approaches to St. Augustine up to three and a half miles—the maximum range for the 16, 18 and 24-pound cannons anchored along the fort's walls.
Possession of this coveted St. Augustine fortress changed six times throughout history. All transitions were peaceful and spanned four different governments including the Spanish Empire, the Kingdom of Great Britain, the Confederate States of America and the United States of America. Spain and the United States both held ownership twice. The Castillo de San Marcos was besieged three times but was never taken by force.
A unique feature of the Castillo de San Marcos are the Spanish guard rooms. Soldiers did not live inside the Castillo during Spanish occupation. Instead, they commuted from their homes in the nearby town and utilized these rooms during overnight guard duty to rest, cook meals and occupy their spare time playing games and socializing.
Spend your time at the Castillo watching re-enacters in period costumes giving a historical weapons demonstration, perusing the many informative exhibits, listening to Park Rangers talk about the history and culture of the Castillo or wandering the beautiful grounds. St. Augustine's Castillo de San Marcos is an adventure you and your family won't soon forget.