Every Day is a Splash at St. Augustine Beach!
St. Augustine Beach offers miles of surf, sun and fun along the Atlantic Ocean on beautiful Anastasia Island. This is one of the most alluring beaches on the Atlantic coast with endless ways to enjoy the salt life. St. Augustine Beach provides access roads to the oceanfront for cars as well as multiple catwalk entries over the dunes from hotels and condominiums. Just grab your gear, head to the beach and find a favorite spot to set up your umbrella, canopy or sun tent. Or you can just park your beach chair in the sand right where the surf teases your toes.
Start a new St. Augustine Beach adventure every day with an inspiring morning walk along the beach. There are always friendly locals and visitors alike who are bicycling, jogging, walking their dogs or tinkering along on a shell hunt. The sunrises at St. Augustine Beach are spectacular and dynamic. Don't forget your camera or smartphone—every sunrise you capture will always remind you of a special St. Augustine adventure. Embrace the salt life and check out these helpful tips for a perfect beach-savvy stay in St. Augustine. Love the beach once… and it's forever!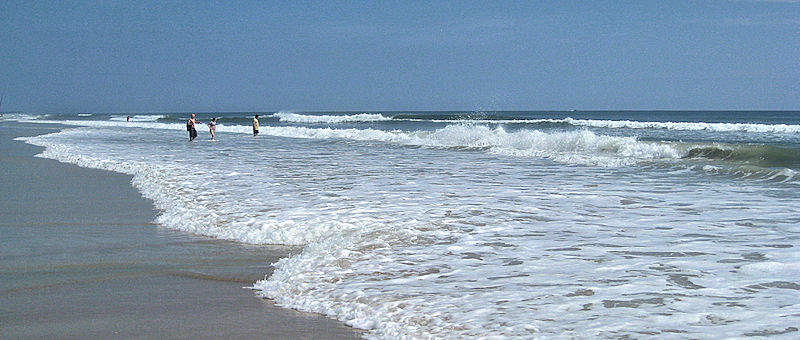 Water temperatures at St. Augustine Beach are always in a comfortable low 80's range during the summer months. This stretch of beach has the perfect waves for action water sports or just enjoying a refreshing swim along the shore. Whether you love surfing, boogie boarding, the paddle board or ocean kayak, St. Augustine Beach is the perfect venue for your ocean adventure. You can always find out about current beach conditions by calling (904) 209-0331.

When it comes to competitive surfing, the hometown talents in St. Augustine Beach are among the best surfers on the east coast. This beach produces dynamic surf conditions ranging from playful one to three foot waves to exciting swells of eight feet or more depending on weather patterns in the Atlantic Ocean. Do you want to learn to surf? Check out St. Augustine Surf School, the number one rated surf school in north Florida.
St. Augustine Beach is very nature-friendly and the people here are resolute about protecting the sea turtles. Sea turtle season begins on May 1st each year and certain beach restrictions apply. All beachfront properties are required to reduce the impact of interior and exterior lights that might impact nesting sea turtles. You may also see occasional staked off square or rectangular ares on the beach. These are protected nesting areas where sea turtles have laid their eggs. Eventually the little turtles will hatch and make their way to the sea.
In August, 2014, Tropical Storm Cristobal changed the scenery at St. Augustine Beach for several days. Surfers were quick to take advantage of the charging waves and the surf whipped up a frothy foam along the shore. The beach's normal driving lanes were submerged with tides almost reaching the dunes. Cristobal created an exhilarating experience for beach walks and a bounty for shell collectors. It's all part of the wonder and adventure of St. Augustine Beach.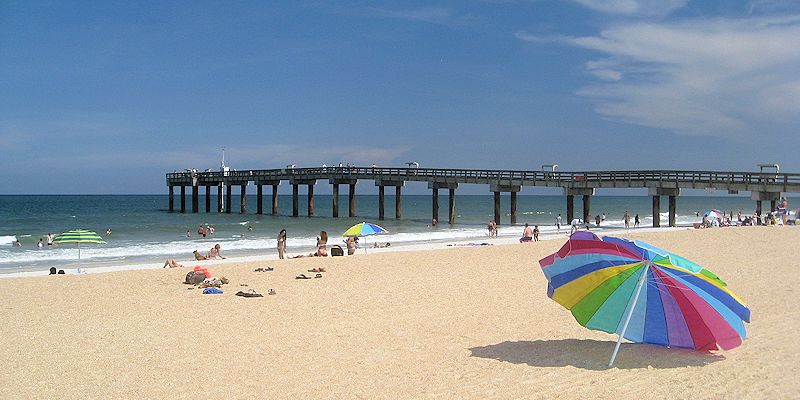 The St. Augustine Beach Pier (St. Johns County Ocean and Fishing Pier) offers the perfect setting for fishing, photography or just relaxing surf side and enjoying the ocean. There is a gift shop that provides anything you need to enjoy your day at the beach—from snacks and souvenirs to fishing poles and bait. The pier is located at 350 A1A Beach Boulevard on St. Augustine Beach almost directly across the street from Salt Life Food Shack.
A refreshing Splash Park is also featured at the St. Augustine Beach Pier with a fun playground, covered picnic tables and nearby beach volleyball courts. The kids are not the only ones who love the Splash Park. This is a refreshing venue for everybody to relax, enjoy the fountains and cool off right by the St. Augustine Beach Pier.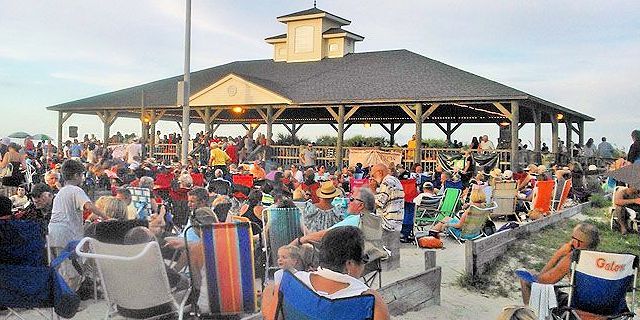 Annual events are always active around the St. Augustine Beach Pier from Music by the Sea concerts (to entertain visitors and promote St. Augustine Beach) to National Night Out at the Beach (by the city of St. Augustine Beach Police Department) to increase focus on child safety and community awareness. And there is plenty more to enjoy from craft shows to festivals. Find out more about St. Augustine Beach Pier news and events.