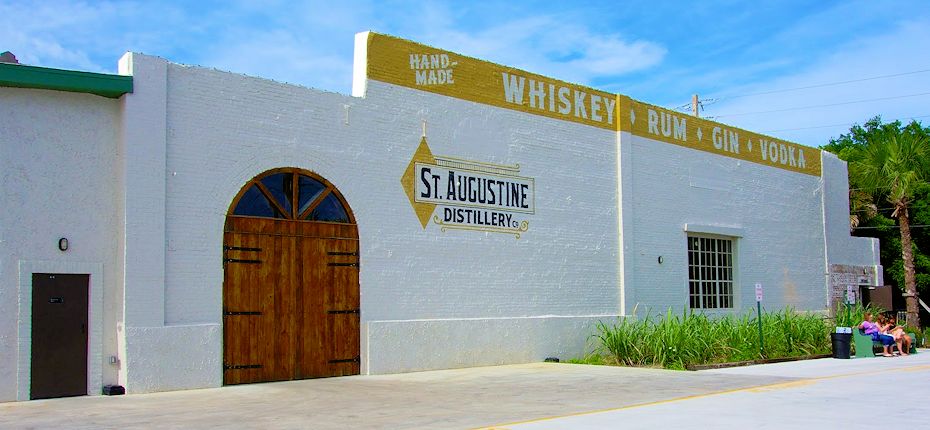 Chill Out at St. Augustine Distillery
When you visit St. Augustine's Old Town in search of interesting places to visit, the rustic St. Augustine Distillery is a fun and intriguing adventure. Originally opened in 1917, this refurbished distillery is the oldest ice manufacturing facility in Florida. St. Augustine Distillery is currently ranked number one in attractions in St. Augustine on Trip Advisor and offers free tours and tastings seven days a week. Located at 112 Riberia Street in the historic Ice Plant building, the tour features a museum, short documentary, and first-hand look into the production of small-batch vodka, gin, rum and Florida's first bourbon whiskey. Each tour ends with a sampling of the spirits and an opportunity to shop in their extensive gift shop.
St. Augustine Distillery produces exclusive aged bourbon from a grain mash of corn, wheat, and malted barley. Their signature gin and vodka are sourced from a south Florida sugarcane. In September, 2015, St. Augustine Distillery also unveiled their own unique brand of rum. This release of rum is the first of the Discovery Series—a group of limited release expressions created during the development of their flagship rum. Each one was fermented and distilled on site from select regional sugarcane syrups and molasses in St. Augustine Distillery's own copper pot stills.
St. Augustine Distillery has its' own mini museum with a collection of displays and artifacts that deliver the story of Florida's unique distilling history. There are fascinating facts about how the liquor trade in Florida evolved through the Prohibition period. As you tour through the distillery you will encounter a premium view of the operation and towering kegs of aging bourbon. A polite and engaging tour guide makes your experience at St. Augustine Distillery even more enjoyable.
After your tour of St. Augustine Distillery's exclusive production process, you will be courted to the distillery tasting room to enjoy complimentary creations using the featured liquors. These beverages are made from scratch with hand-crushed ice and fresh produce grown by local farmers. The tasting is fun and informational—a perfect way to top off your St. Augustine Distillery excursion.
You will finally encounter a handsome gift shop that is stocked with their premium spirits and interesting accessories. The gift shop also includes everything a bartender could dream of—from copper cups to complete cocktail setups.
St. Augustine Distillery is open Monday through Saturday, 10 a.m. to 6 p.m., and Sunday, 11 a.m. to 6 p.m. with free, guided tours and tastings every half hour. For more information, call 904-825-4962 or visit staugustinedistillery.com. Enjoy the historic St. Augustine Distillery's roots from the 1900's and taste a bit of Florida's heritage today!
After chilling out at St. Augustine Distillery you can continue your adventure at the Ice Plant Bar which resides in the same building on the second floor. And don't forget to take a visit to San Sebastian Winery, another venue for alternative fun that is located just around the corner.