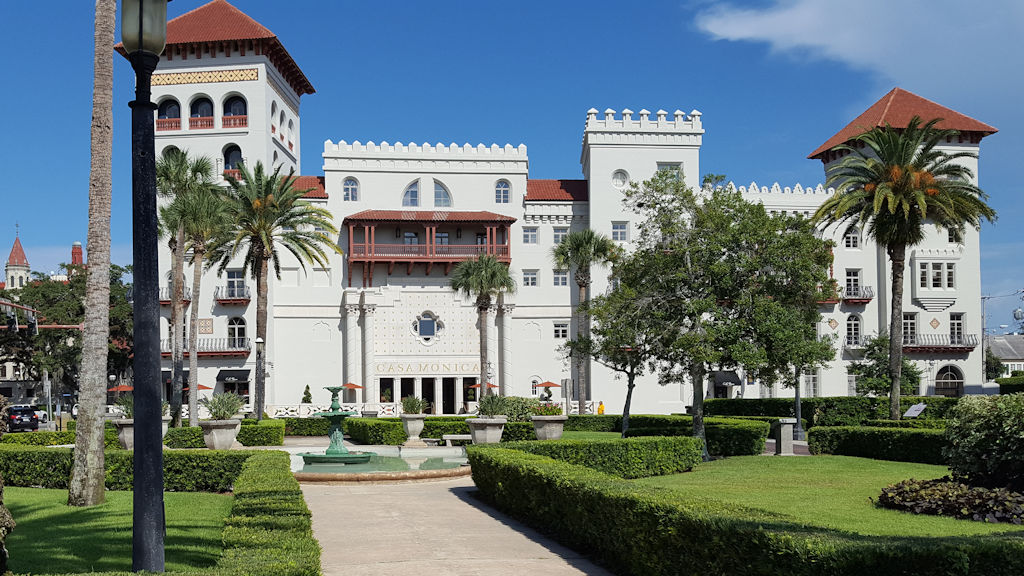 Delight in Contemporary Comfort at the Historic Casa Monica Hotel
Another nearby destination in St. Augustine's historic district is the enchanting Casa Monica Hotel. This lavishly designed retreat, originally built in 1888, is beautifully restored and combines old-time elegance with contemporary comfort. Casa Monica Hotel's chandeliers, fountains and opulent decor are sure to make you feel like royalty. More than an attraction, this luxurious resort and spa is noted among the "Top Hotels in the U.S." by Conde Nast Traveler and a "Best Destination Weddings Hotel in US" by Fodor's Travel. Renovated by Richard C. Kessler, the Casa Monica Hotel is also a member of the National Trust Historic Hotels of America.
Just one trip through the prestigious lobby will have you dreaming of a special St. Augustine Adventure. This elaborate establishment is known for its large rooms, swanky suites and ornate furnishings. The rooms are also equipped with wireless and high speed internet to keep you connected for a perfect stay. Bookings and accommodations are flexible enough to meet any vacation budget. From dining and leisure to celebrations and meetings—the Casa Monica Hotel provides an ideal venue to make any event a memorable one.
Temptation prevails at Costa Brava restaurant where coastal Mediterranean cuisine is served as delectable meze and tapas style delights. This is a unique experience at Casa Monica Hotel where the servers help to guide you through a culinary odyssey. A broad selection of small plate indulgences are offered as well as soups, salads and specialties from the grill. Costa Brava's menus are varied with selections for breakfast, lunch, dinner and dessert.
Casa Monica Hotel's Cobalt Lounge—with artful decor and ambient candlelight—is a spledid escape for a classic cocktail or meticulous martini. This worldly watering hole provides a full menu daily from 11:00 am to 11:00 pm along with happy hours and great live music on Friday and Saturday nights. The Cobalt Lounge also features an impressive line-up of daily drink specials that feature Sunday Bloody Marys, Monday Mojitios, Tuesday Margaritas, Wednesday Cosmos and Specialty Martinis on Thursday.
Adjacent to the Casa Monica Hotel lobby, treat yourself to the inspiring James Coleman Signature Gallery where you will find a collection of exclusive creations from Coleman and other talented artists. It is no surprise that these works of art provide visual sensations that are bright, casual, tropical and colorful—Coleman worked over 20 years as a background artist and supervisor with Walt Disney Animation. The James Coleman Signature Gallery offers an excellent escape to relax and enjoy unique art, tranquil lighting and cozy alcoves.
The Casa Monica Hotel resides at one of St. Augustine's most exquisite locations where Cordova Street and King Street intersect. Adjacent attractions include Flagler College, the Lightner Museum and the Plaza de la Constitucion. There is so much to explore and enjoy when you make the Casa Monica Hotel experience a part of your St. Augustine adventure. Find out more at their official website or take an even deeper dive for Casa Monica Hotel's history at their Wikipedia page.