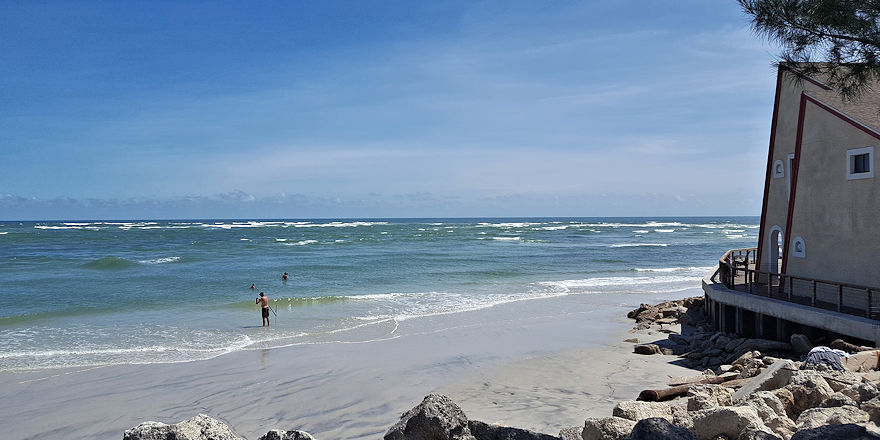 Enjoy the Salt Life at Matanzas Inlet
Matanzas Inlet staged a unique role in the strategic history of St. Augustine. The inlet was the location for the Spanish massacre of French forces in 1565 led by Pedro Menendez de Aviles. This event helped to secure Spanish control of Florida for 235 years. It also led to the naming of Matanzas Inlet and the Matanzas River—"matanzas" is the Spanish word for "slaughters".
Matanzas Inlet is located just minutes south of St. Augustine. It is a wonderful place to enjoy favorite activities like boating, fishing and shelling. Adventure abounds at Matanzas Inlet with sandy nooks and surf side fun. You will encounter friendly locals with fascinating stories to tell about the recent history of the area and how certain tropical storms have transformed the scenery over the years. There are miles of lush hiking trails to explore at Matanzas Inlet. Convenient rentals are also available for kayaks and jet skis for an aquatic adventure on the Matanzas River.
Slightly north of Matanzas Inlet, a short road leads you to the touring grounds for Fort Matanzas National Monument. The monument's park entrance is located at 8635 A1A South. This historic attraction has a quaint little gift shop and relaxing picnic grounds you can enjoy before your excursion to the fort. Did you know that the live oak trees in the picnic area at Fort Matanzas are over 150 years old?
A small ferry boat provides free hourly excursions across the Matanzas River to explore the monument. Be sure to venture to the nearby nature boardwalk that angles through a lush tropical canopy of trees and palmettos. The boardwalk trail eventually leads to a marker indicating the area where the Massacre at Matanzas occurred in 1565. Perusing this nature trail is a nice way to spend some time enjoying the landscape and experiencing the history of Matanzas before boarding the next ferry boat ride.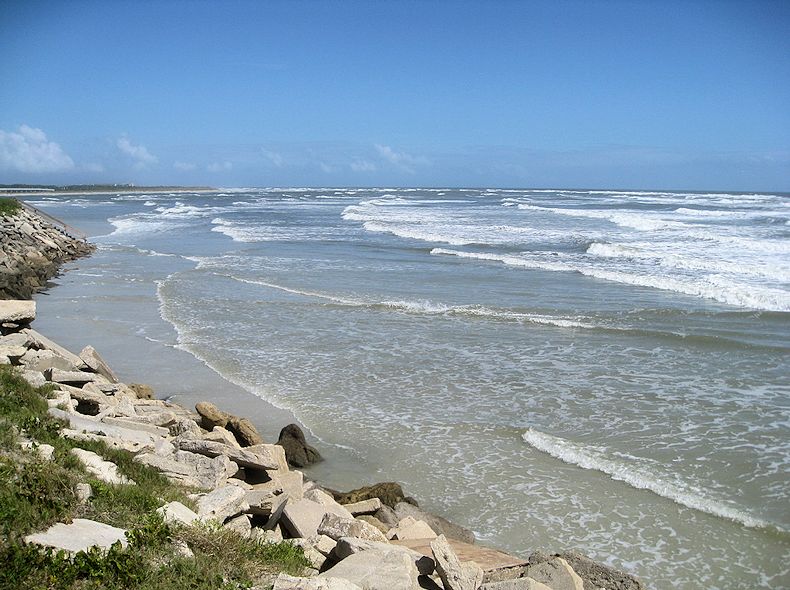 Mother Nature provides annual renewal for Matanzas Inlet by cranking up the surf and reshaping sandbars when tropical storms move up the Atlantic coast. Since the inlet is not fronted by natural jettys, the width and depth of the entrance is subject to change. This creates a dynamic beach landscape to explore for locals and visitors alike. Historic Spanish military maps actually suggest that Matanzas Inlet today has shifted hundreds of yards south since the 18th century.
Just south of the bridge at Matanzas Inlet there is actually a restaurant on the waterfront called Matanzas Innlet (two n's in Innlet). The menu is full of classic seafood fare and beverages galore. Matanzas Innlet Restaurant has comfortable indoor dining as well as back patio deck tables and seating with a view of the inlet waterway.

Heading further south from St. Augustine, you will arrive at Marineland after a short scenic drive. Marineland has presented the popular Dolphin Adventure for over seventy-five years. Various programs allow visitors to view the dolphins through 6 by 10 foot acrylic windows as they swim, play and interact with guests.
South of Marineland on North Ocean Shore Boulevard there is the Marineland Ocean Boardwalk. This is a roomy, extended and raised platform with a nice view of the ocean. Plenty of parking is available with convenient steps for beach access. This is a great place to take pictures or escape to the beach when you are touring around Matanzas Inlet.
On Sundays there is also a Salt Air Farmer's Market bustling across the street at the Marineland Marina. This outdoor market is a fun Matanzas Inlet destination that offers fresh produce, homemade breads and a wide assortment of hand-crafted goods. And since it's at the marina you don't even have to drive. Just hop on your favorite watercraft and go check it out.
Explore tropical nature trails, ferry to the fortress, enjoy an impromptu shell hunt or just take your curiosity to the farmer's market. St. Augustine's Matanzas Inlet is a true Florida adventure with endless ways to indulge in the salt life.