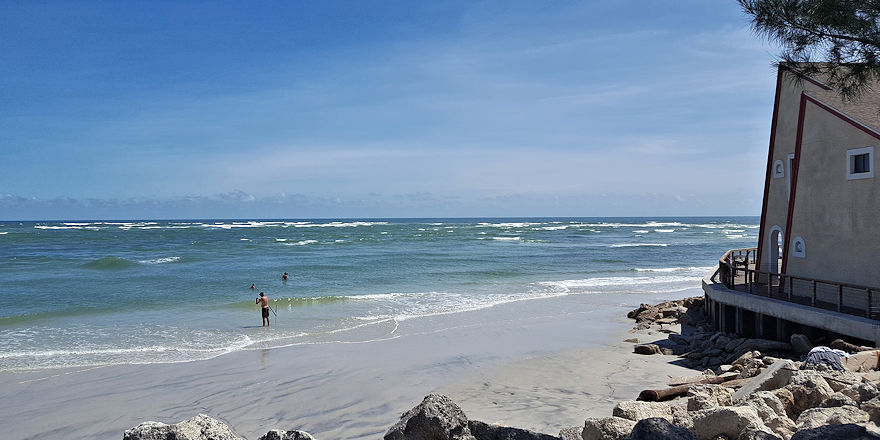 Enjoy the Salt Life at Matanzas Inlet Beach
Matanzas Inlet staged a unique role in the strategic history of St. Augustine. The inlet was the location for the Spanish massacre of French forces in 1565 led by Pedro Menendez de Aviles. This event helped to secure Spanish control of Florida for 235 years. It also led to the naming of Matanzas Inlet and the Matanzas River—"matanzas" is the Spanish word for "slaughters".
Matanzas Inlet is located just minutes south of St. Augustine. It is a popular salty paradise to enjoy favorite activities like boating, fishing, surfing and shelling. Adventure abounds at Matanzas Inlet with sandy nooks and surf side fun. You will encounter friendly locals with fascinating stories to tell about the recent history of the area and how certain tropical storms have transformed the scenery over the years. There are miles of lush hiking trails to explore at Matanzas Inlet. Convenient rentals are also available for kayaks and jet skis for an aquatic adventure on the Matanzas River.
Just south of the bridge at Matanzas Inlet there used to be a popular eatery on the waterfront called Matanzas Innlet Restaurant. Unfortunately the restaurant was destroyed by Hurricane Matthew in October 2016. This venue was a favorite for locals and visitors alike with a classic seafood menu, pet-friendly patio deck and live music. For historical context, the image above shows what the restaurant looked like from the inlet bridge only a few weeks before Hurricane Matthew arrived.

Heading further south from St. Augustine, you will arrive at Marineland after a short scenic drive. Marineland has presented the popular Dolphin Adventure for over seventy-five years. Various programs allow visitors to view the dolphins through 6 by 10 foot acrylic windows as they swim, play and interact with guests.
South of Marineland on North Ocean Shore Boulevard there is the Marineland Ocean Boardwalk. This is a roomy, extended and raised platform with a nice view of the ocean. Plenty of parking is available with convenient steps for beach access. This is a great place to take pictures or escape to the beach when you are touring around Matanzas Inlet.
On Sundays there is also a Salt Air Farmer's Market bustling across the street at the Marineland Marina. This outdoor market is a fun Matanzas Inlet destination that offers fresh produce, homemade breads and a wide assortment of hand-crafted goods. And since it's at the marina you don't even have to drive. Just hop on your favorite watercraft and go check it out.
Explore tropical nature trails, ferry to the fortress, enjoy an impromptu shell hunt or just take your curiosity to the farmer's market. St. Augustine's Matanzas Inlet is a true Florida adventure with endless ways to indulge in the salt life.